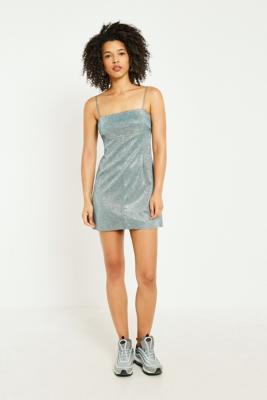 Pins & Needles Moonbeam Metallic Slip Dress, Sky
It'll be a marvelous night for a moon dance in this dress from UO's Pins & Needles label. Slip dress in a metallic glitter fabrication topped with adjustable spaghetti straps and a square neck. With an empire waist and in a mini dress silhouette. **Content + Care** - Polyester, elastane - Machine wash **Size + Fit** - Model wears: Small - Model height: 179cm/5'10.5"
Varan är tyvärr inte tillgänglig hos butiken för tillfället. Det kan antingen bero på att varan är tillfälligt slut eller att den har utgått ur sortimentet. Om varan åter blir tillgänglig uppdatera vi självklart den här sidan.
528 kr
Visa/köp hos Urban Outfitters
Urban Outfitters visar sina priser i GBP och Euro. Vi har räknat om priset till kronor för att det ska bli lättare för dig. Vårt pris är dock ungefärligt, det exakta priset hittar du på Urban Outfitters hemsida genom att följa länken.